SI, Consulting


Design, implementation and management support by I18N specialists
Internationalization specialists provide a very unique consulting service!
Kokusaika JP supports software globalization processes such as internationalization, localization, and multilingualization of software, and selling them all over the world, totally in technical and management area. Some examples are as follows: Instructions of software internationalization and multilingualization, tool demos and training, analysis of the current situation, design, programming, prototyping of internationalization handling, on-site seminar, foreign company management, accompanying on foreign business trip. Our service is not only limited to 'Consulting' but we can contribute to the expansion of your business activities on a global scale in various ways.

Kokusaika JP is a specialist in technology, culture, and management.

>>Highly recommended if you are one of the following:
I am planning to develop a new software application and sell it in foreign countries, but I don't know what points we should take into consideration.
I want to proceed to the multilingualization of my company's software, but we don't have enough know-how and skills.
I want to manage development teams across several countries, I want to assign the multilingualization to the foreign development team. .... etc.
Service Content
Overview of software internationalization support: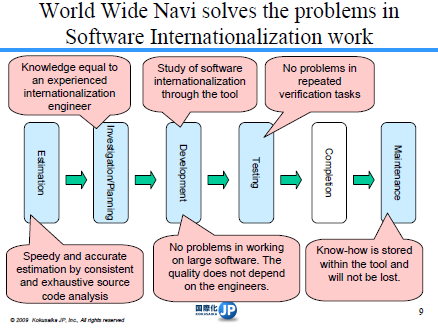 >>
Contents
Lecture of software internationalization, multilingualization, globalization
Demos and trainings of software internationalization tool, "World Wide Navi", and other tools
Joining design and programming, contract work for prototyping
On-site custom-tailored training/seminars
Analysis of the current situation, hearing, source code diagnosis, survey (refer to Source Code Clinic, too.)
Collaborative development with foreign companies and department, offshore development management
Business trip accompany to overseas and attendance at meeting and conference ... etc.
*Please refer to What's I18N? and I18N Support, too.

>>Option
We are providing online consulting by Skype

for distant or foreign customers.

Skype ID: kokusaika-jp

>>Fees
Regular Consulting (Lecture, meeting attendance, training, etc.):
Half day course (within 2 hours) 40,000 yen
One day course (within 4 hours) 80,000 yen

On-site Seminar (Educational seminar with dedicated handouts):
Light course (within 90 minutes) 100,000 yen
Full course (within 180 minutes) 200,000 yen

Engineer In Residence (Design, implementation, pair-programming, .etc):
One day residence (within 8 hours) 60,000 yen
One month residence (from 140 hours) 800,000 yen at least

Contract Work (Prototyping of internationalization function, common process programming, design document writing):
On demand

Managerial Work (Bridge SE, offshore project management, on-line meeting attendance):
One hour 10,000 yen
One day 60,000 yen
(It depends on contents and location in or outside Japan if the hour or day charge is applied.)

Business Trip Accompany (Traveling to remote or foreign company or department, and joining meeting and work):
One day in Japan 50,000 yen
One day outside Japan 60,000 yen
(Travel time is included)

*These are basic prices. They are subject to change on contents and contract styles.
For more details, please contact us by the following email address or our contact address.



*We support PayPal payment. You can pay us safely.

>>Application
Send your contact information, requested courses, and other related issues to the following email address.
We will send you back our confirmation points, cost estimation and payment direction by email, phone or Skype.

Email Address for Application: This e-mail address is being protected from spambots. You need JavaScript enabled to view it

*Quotes Are Free Without Any Obligation!


Benefits For Product License Customers

World Wide Navi customer360 days or longer Professional Model licenses can get one of the following services for free or at some discount for one time per license.

Regular consulting, half day course (within 2 hours) 40,000 yen -> Free
On-site seminar, light course (within 90 minutes) 100,000 yen -> 60,000 yen

For World Wide Navi advantage services, refer to here.

Case Study
For case study, refer to

Case Study.


Documents And Others

Kokusaika JP's Company Overview (business contents)(pdf)

Internationalization Steps With Tools (pdf)

>>The followings may be effective adjunctive services to accommodate your needs:

Source Code Clinic 
Seminar 



>>

We support the following special cases. Please contact us to the email.

Performance improvement, refactoring for maintenance enhancement.
Contract development and UI creation other than internationalization, multilingualization, ... etc.

Contact Us
For requests and inquiries, please contact us on the application address or our contact address.