News Release
16 December 2010
Kokusaika JP Inc.
---
Kokusaika JP portal site added mobile terminal support
On December 16, Kokusaika JP added mobile terminal support to their potal site, which became a multi-device and multi-language site.

This support is based on Joomla! and Mobile Joomla!, an extention to Joomla! for mobile support, where contets are formatted in the best way for the terminal (smartphone, tablet pc, cellular phone, ordinary pc, etc) and image files are shrunk according to the display size. You don't have to add mobile-specific contents so that you can maintain your site more efficiently.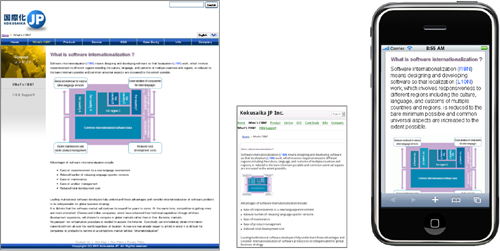 pc, cellular phone, iPhone (from the left)


Kokusaika JP is going to add this mobile support to JoomWeb, their web solution, as a new service. It will be called JoomWeb Mobile. Stay tuned!


Kokusaika JP portal site


Note: Some contents other than Japanese may not be displayed well on mobile terminals because they are not ready for mobile yet.